diatomite efficient special pesticide additives white powder
Product Detail
Diatomite/diatomaceous powder
Product Tags
Carrier or Filler is an inert substance in pesticide formulation processing. Its main function is to ensure the content of pesticide active ingredients in processed products and disperse the active ingredients of the original drug with the added surfactants and other ingredients. A uniform mixture is formed to maintain the dispersibility and fluidity of the product; at the same time, the performance of the product is improved, and it can be used after being diluted in water safely and conveniently.
Diatomaceous earth has a unique and orderly arrangement of nano-micropore structure, large pore volume, large specific surface area, and high oil absorption rate. Therefore, when spraying the drug, the drug can easily penetrate and diffuse into the nano-micropores inside the carrier. Distributed in diatomite, so it lasts for a long time, and its effect is better than bentonite
Generally, substances with strong adsorption capacity, such as diatomaceous earth, bentonite, attapulgite, and white carbon black, are called carriers. They are often used as the matrix for the manufacture of high-concentration powders, wettable powders or granules, and can also be used as wettable powders and water. Used as filler for dispersing granules and other products. Substances with low or medium adsorption capacity, such as talc, pyrophyllite, clay (such as kaolin, clay, etc.) are generally used to prepare low-concentration powders, water dispersible granules, dispersible tablets and other products called fillers (Filler) or diluent (Diluent). Both the "carrier" and the "filler" are used to load or dilute the inert ingredients of the pesticide, and give the pesticide formulation product fluidity, dispersibility and convenient use.
The main component of diatomaceous earth is silicon dioxide, and its chemical composition can be expressed by SiO2·nH2O. It is a siliceous sedimentary rock of biological origin. There are many kinds of diatomaceous earth with different shapes, such as disc, sieve, ellipse, rod, boat and embankment. Observe the dry sample with a scanning electron microscope (SEM). It has many micropores, a large specific surface area, and strong adsorption capacity, especially for liquids. Therefore, it is widely used as a carrier for making high-content wettable powders and master powders, especially suitable for processing liquid pesticide active ingredients and low-melting pesticide active ingredients into high-content wettable powders and water dispersible granules; or Compatible with carriers with small adsorption capacity, as a composite carrier for wettable powders and water-dispersible granules to ensure the fluidity of the preparation.
Overview
Quick Details
CAS No.:

61790-53-2/68855-54-9
Other Names:

Celite
MF:

SiO2.nH2O
EINECS No.:

212-293-4
Place of Origin:

Jilin, China
State:

GRANULAR, Powder
Purity:

SiO2>88%
Application:

Agriculture
Brand Name:

Dadi
Model Number:

diatomite Pesticide powcder
Classification:

Biological Pesticide
Classification1:

Insecticide
Classification2:

Molluscicide
Classification3:

Plant Growth Regulator
Classification4:

physical insecticide
Size:

14/40/80/150/325 mesh
SiO2:

>88%
PH:

5-11
Fe203:

<1.5%
Al2O3:

<1.5%
Supply Ability
20000 Metric Ton/Metric Tons per Month
Packaging & Delivery
Packaging Details

Packaging Details1.Kraft paper bag inner film net 12.5-25 kg each on pallet. 2.Export standard PP woven bag net 20 kg each without pallet. 3.Export standard 1000 kg PP woven big bag without pallet.
Port

Dalian
Lead Time :

| | | |
| --- | --- | --- |
| Quantity(Metric Tons) | 1 – 100 | >100 |
| Est. Time(days) | 15 | To be negotiated |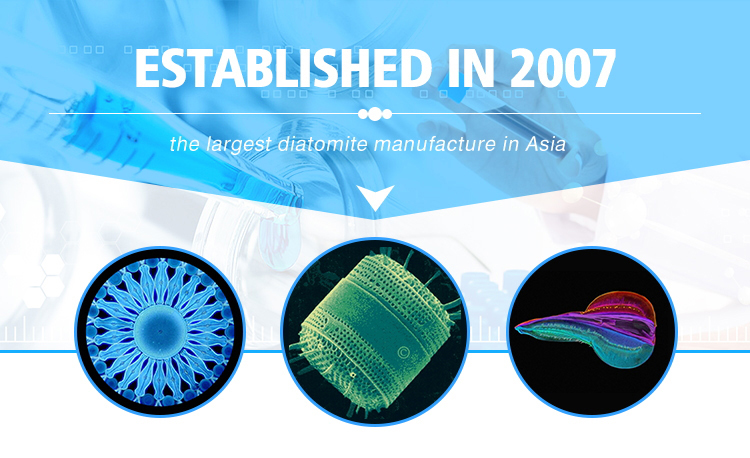 diatomite efficient special pesticide additives white powder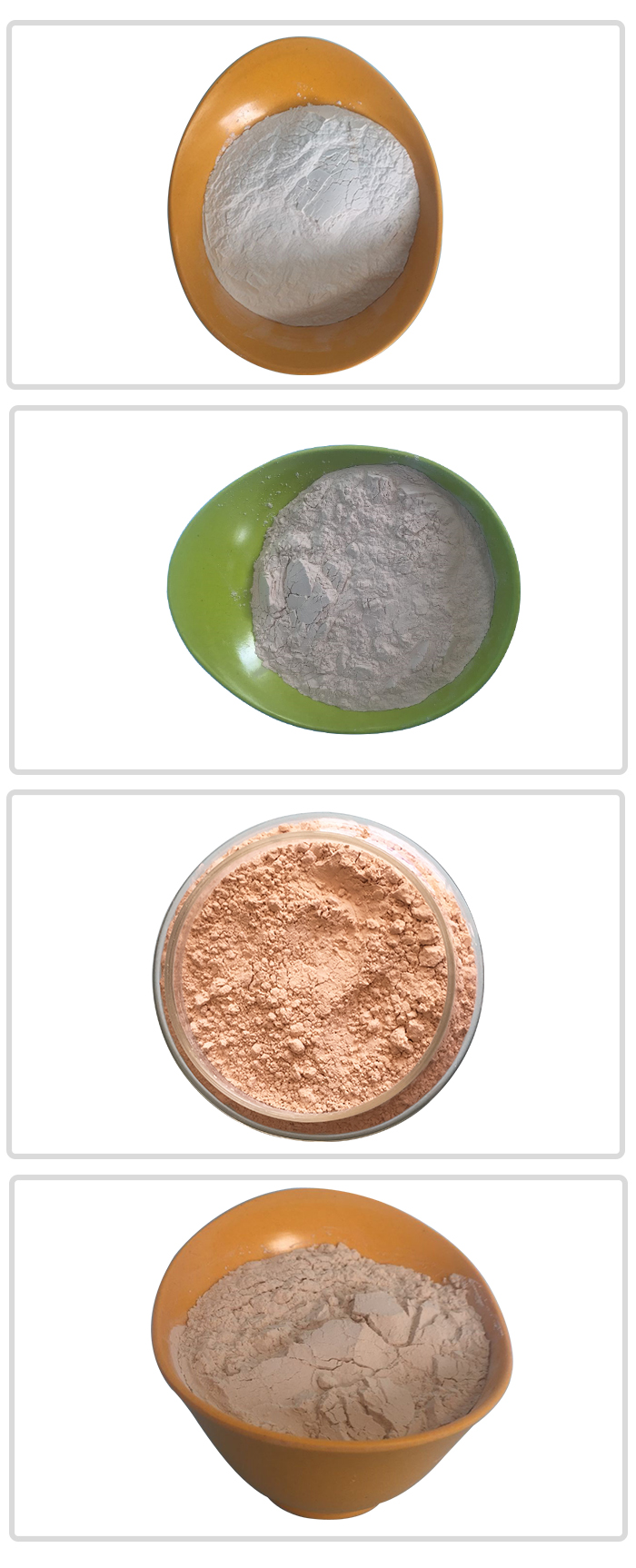 Type

Grade

Color

Sio2

Mesh Retained

D50(μm)

PH

Tap Density

+325mesh

Micron

10% slurry

g/cm3

TL301

Fulx-calcined

White

>=

85

<=

5

14.5

9.8

<=

0.53

TL601

Natural

Gray

>=

85

<=

5

12.8

5-10

<=

0.53

F30

Calcined

P

ink

>=

85

<=

5

18.67

5-10

<=

0.53
Advantage:
Diatomite F30 , TL301and TL601 are special additives for pesticides.
It is a high effective pesticide additive with distributed function and wetting function ,which guarantees the ideal suspension function and avoids adding other additive . The function index of product has reached International FAO Standard .
Function:
Help the granule disintegration in water,improves suspension function of dry powder and increase pesticide effect.
Application :
All pesticide;
Wetting powder,suspension ,water dispersible granule,etc.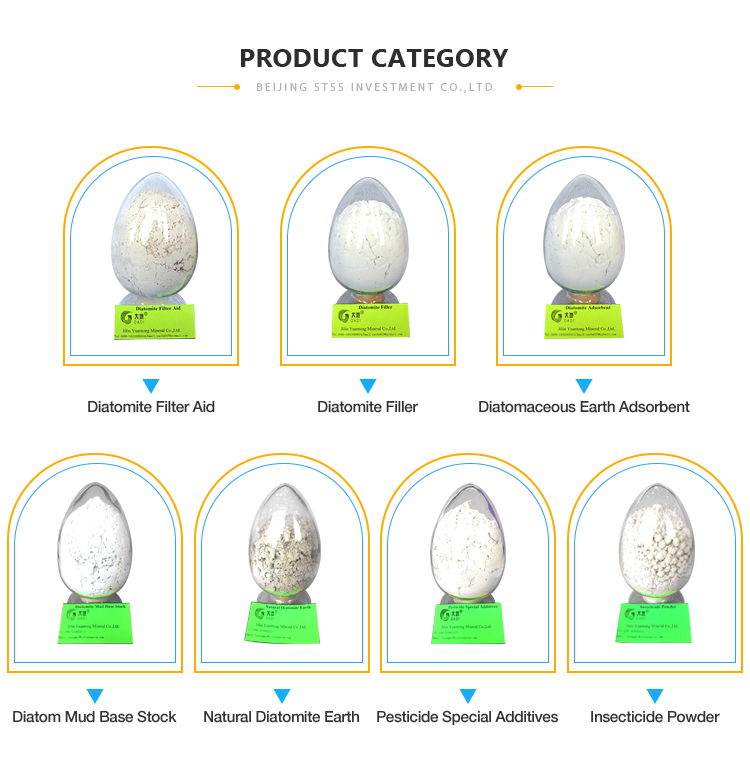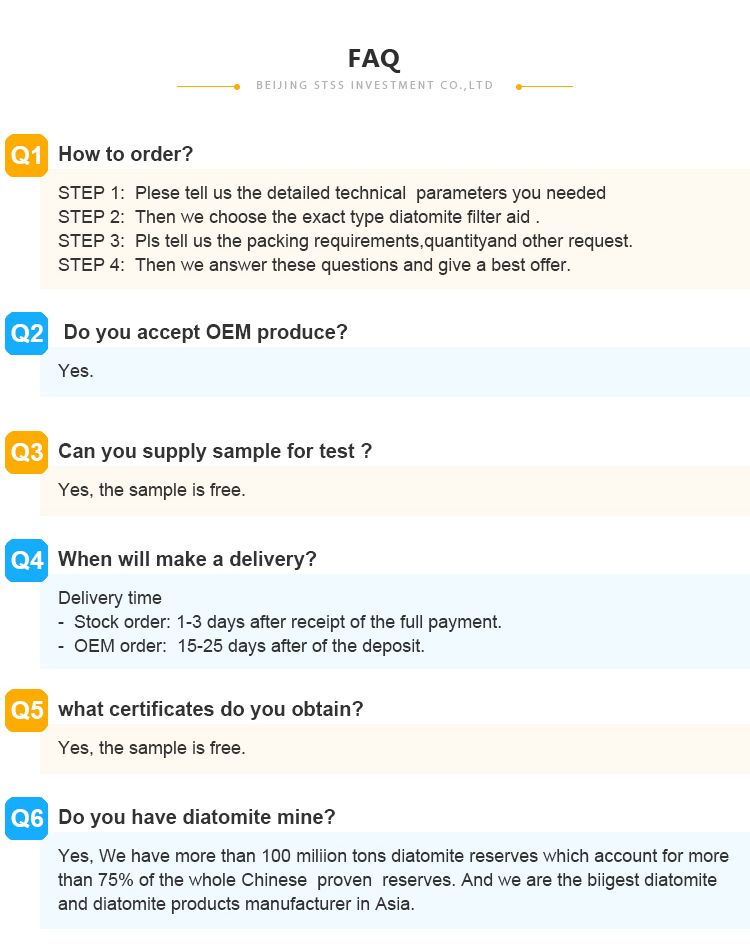 ---
Previous:
Animal feed diatomite additive for sale
---
Description: Diatomite is formed by remains of unicellular water plant-diatom which is a non-renewable resources. The
chemical composition of diatomite is SiO2, and the SiO2 content determine diatomite's quality. ,the more the better.
Diatomite has some unique properties, such as porosity, lower density, and large specific surface area, relative
incompressibility and chemical stability. It has poor conductivity for acoustics ,thermal, electrical, non-toxic and tasteless.
The diatomite production can be extensively applied in industrial production with these properties.
Write your message here and send it to us