Feed veterinary drugs insecticide industry cheap bulk diatomaceous earth
Product Detail
Diatomite/diatomaceous powder
Product Tags
Diatomite has good microporous structure, adsorption performance and compression resistance, it can be widely used in metallurgy, chemical industry, electric power, agriculture, fertilizer, building materials and insulation products. It can also be used as industrial functional fillers for plastics, rubber, ceramics, and paper making. Because of its good chemical stability. It is an important industrial material such as heat insulation, grinding, filtration, adsorption, anti-coagulation, demoulding, filling, carrier and so on. The application of diatomite filler in various industries:
1. Plastics industry, life plastic products, construction plastic products, agricultural plastics, window and door plastics, various plastic pipes, and other light and heavy industrial plastic products. Advantages of applying diatomaceous earth: excellent extensibility, strong impact strength, tear strength, light weight, good soft wear resistance, and excellent compressive strength.
2. In the paper industry, cigarette paper, filter paper and various packaging paper, printing paper, household paper, office paper and other paper are used as fillers. Advantages of applying diatomaceous earth: light and soft, with a fineness in the range of 120 mesh to 1200 mesh. The addition of diatomaceous earth can make the paper smooth, light in weight, good in strength, and reduce swelling caused by changes in humidity. It can be used in cigarette paper. Adjust the burning rate, without any toxic side effects, in the filter paper can improve the clarity of the filtrate, and speed up the filtration rate.
3. In the rubber industry, the unique particle structure of diatomaceous earth enables it to act as a semi-reinforcing material in silicone rubber and mechanical rubber, which can partially replace carbon black.
4. Building exterior (internal) wall paint. In the paint, the unique porous particle structure of diatomaceous earth can make the smooth coating highly rough and produce a fading effect. Not only that, diatomaceous earth can also adjust the balance of the coating The adhesion of the base surface, in addition, due to the porosity of diatomaceous earth, can make the sticky paint dry quickly.
Overview
Quick Details
Place of Origin:

Jilin, China
Brand Name:

Dadi
Model Number:

TL-301#;TL-302C#;F30#;TL-601#
Product name:
Color:

Light pink/White
Grade:

Food grade
Use:

Filler
Appearance:

powder
MOQ:

1 Metric Ton
PH:

5-10/8-11
Water Maximum (%):

0.5/8.0
Whiteness:

>86/83
Tap density(Maximum g/cm3):

0.48
Supply Ability
Supply Ability:

50000 Metric Ton/Metric Tons per Month
Packaging & Delivery
Packaging Details

Packaging:1.Kraft paper bag inner film net 20kg . 2.Export standard PP woven bag net 20 kg . 3.Export standard 1000 kg PP woven 500kg bag .4.As customer required.Shipment:1. As for the tiny amount(less than 50kgs), we will use express(TNT, FedEx, EMS or DHL etc), which is convenient.2. As for the small amount (from 50kgs to 1000kgs), we will deliver by air or by sea.3. As for the normal amount (more than 1000kgs), we usually shipped by sea.
Port

Any port of China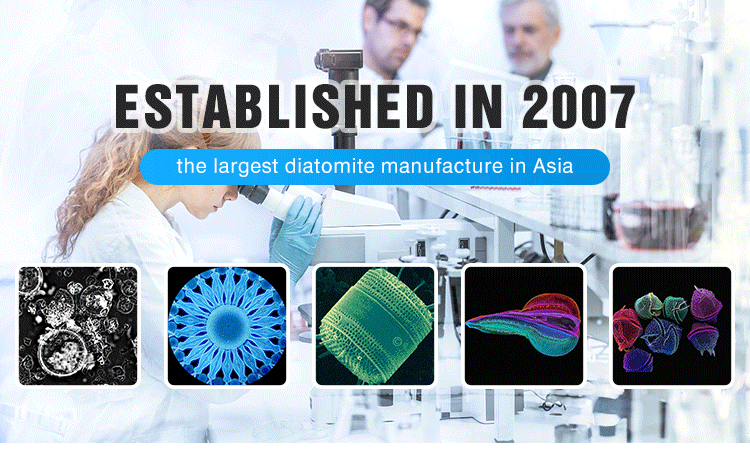 Feed veterinary drugs insecticide industry cheap bulk diatomaceous earth
Technical Date

No.

Type

Color

Mesh(%)

Tap density

PH

Water 

Maximum

(%)

Whiteness

+80 mesh

Maximum

+150 mesh

Maximum

+325mesh

Maximum

g/cm3

Maximum

Minimum

1

TL-301#

White

NA

0.10

5

NA

/

8-11

0.5

≥86

2

TL-302C#

White

0

0.50

NA

NA

0.48

8-11

0.5

83

3

F30#

Pink

NA

0.00

1.0

NA

/

5-10

0.5

NA

4

TL-601#

Gray

NA

0.00

1.0

NA

/

5-10

8.0

NA
Excellent characteristics
Lightweight, porous, soundproof, heat-resistant, acid-resistant, large specific surface area, strong adsorption performance, good suspension performance, stable physical and chemical properties, very poor acoustic, thermal and electrical conductivity, neutral pH, non-toxic and tasteless.
Function
It can improve the product's thermal stability, elasticity, dispersibility, wear resistance, acid resistance etc. And improve product quality, reduce production costs, and expand application.
Application:
1). Centrifugal casting (pipe) coating;
2). Exterior interior wall coating;
3). Rubber industry;
4). Paper industry;
5). Feed, Veterinary drugs, insecticide industry;
6). Cast pipe;
7). Other industry: Polishing material, Toothpaste, cosmetics and etc.

Order from us!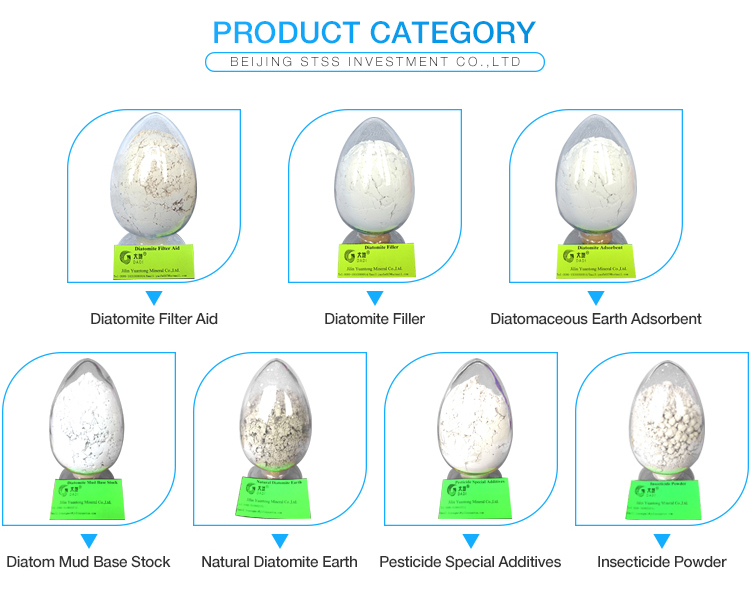 Click on the image above!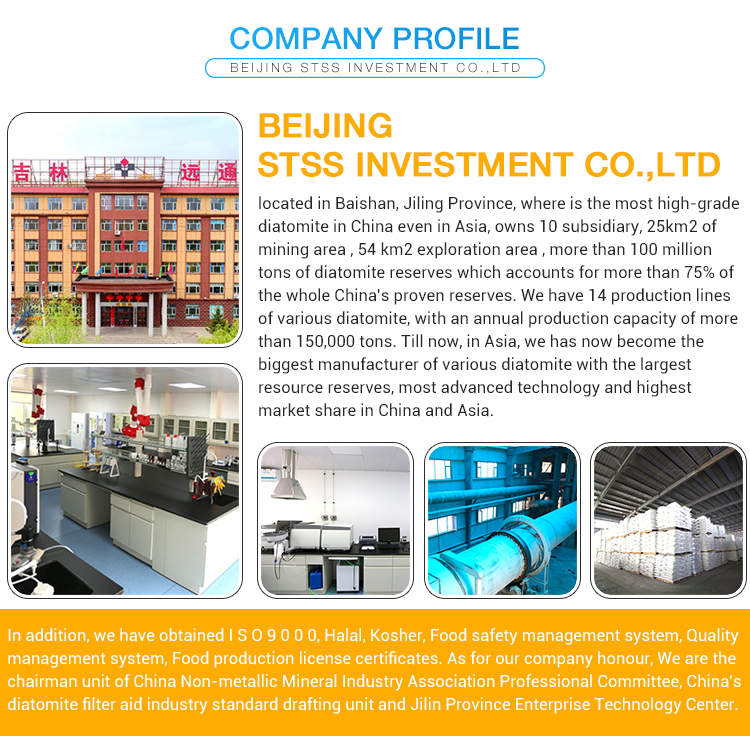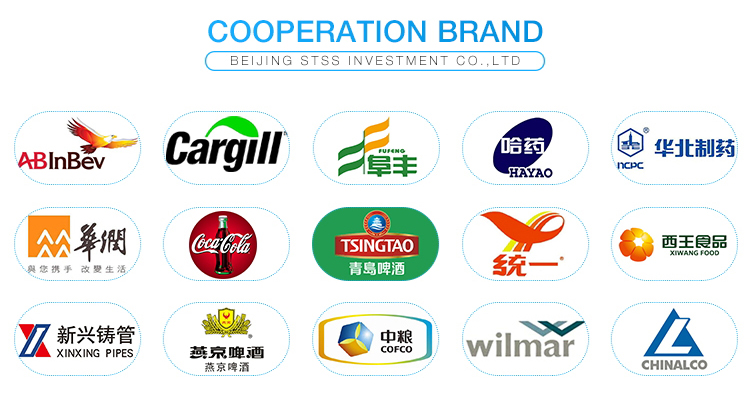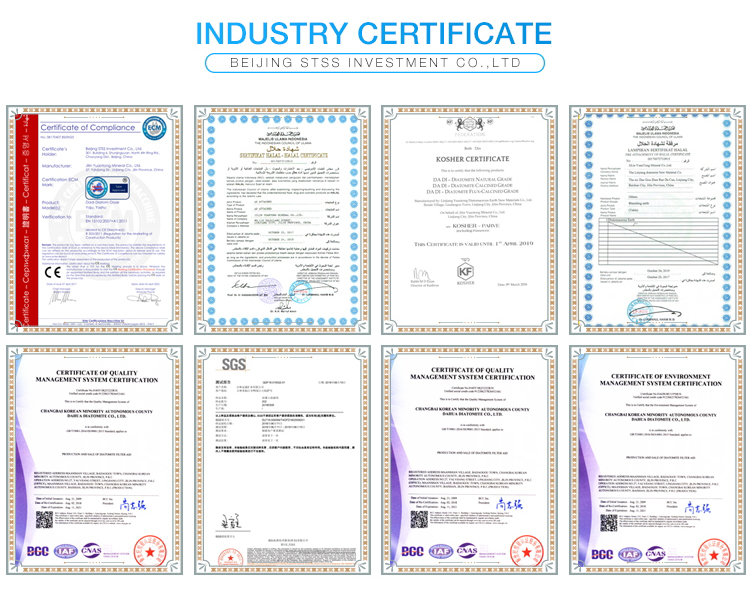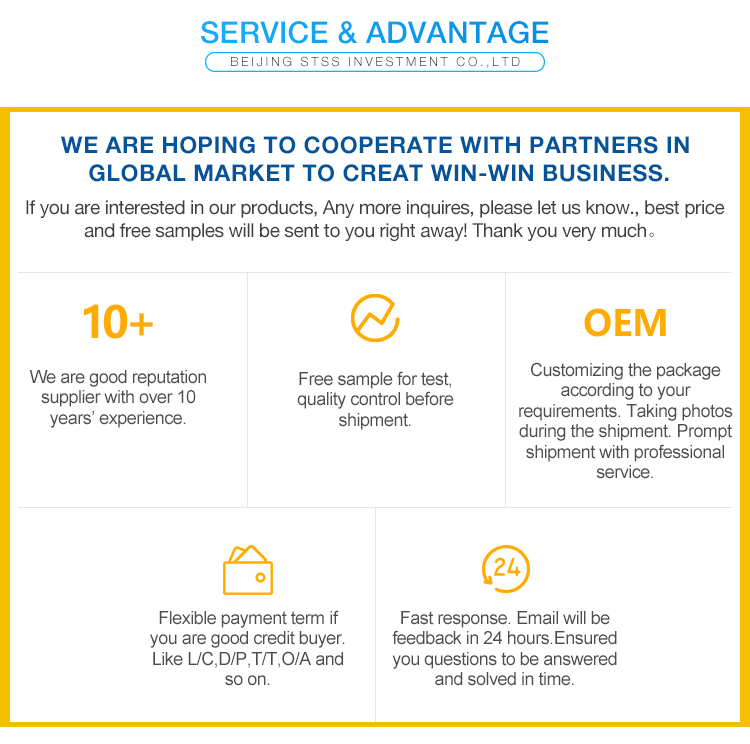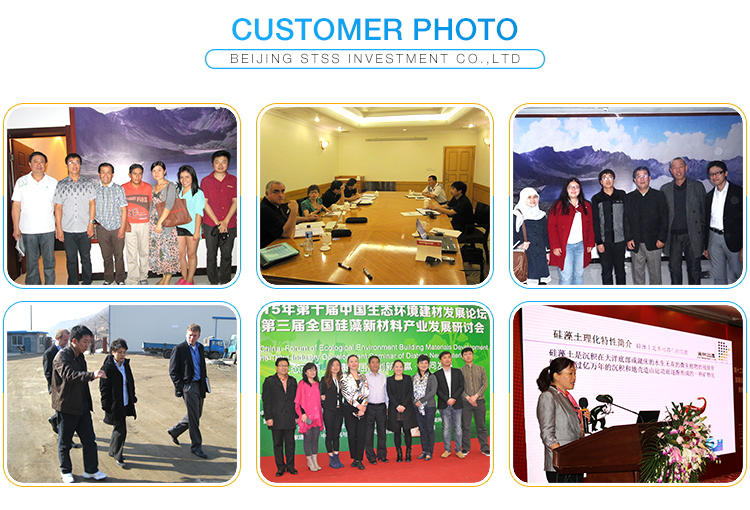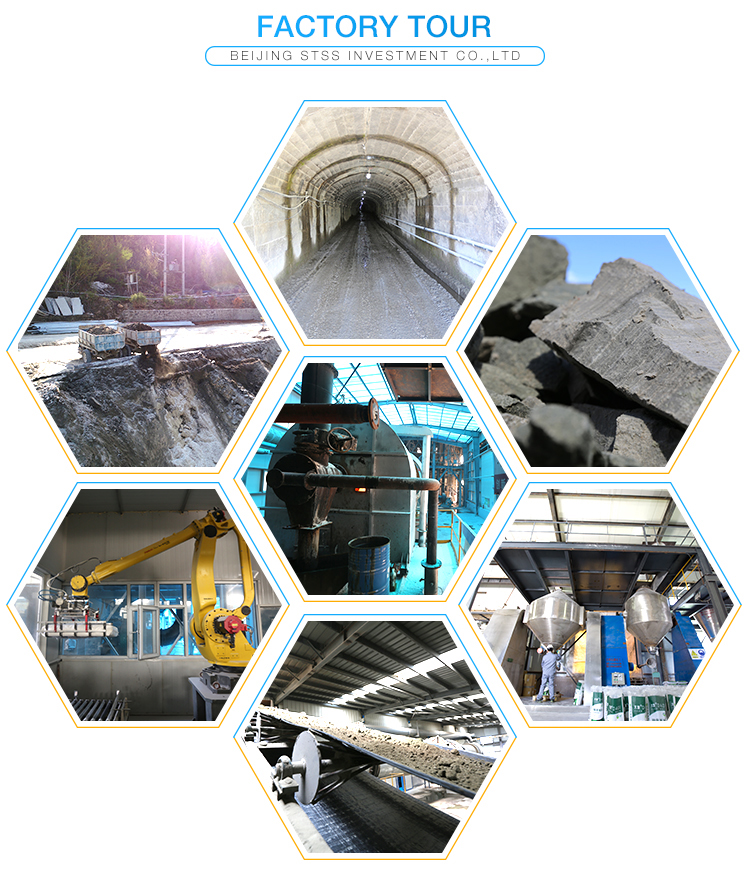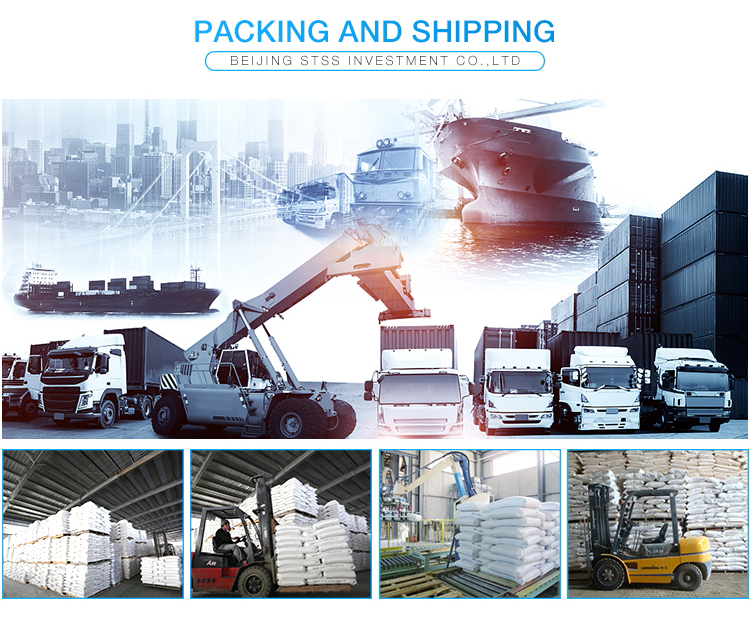 Q: How to order?
  A: STEP 1:  Plese tell us the detailed technical  parameters you needed
        STEP 2:  Then we choose the exact type diatomite filter aid .
        STEP 3:   Pls tell us the packing requirements,quantityand other request.
        STEP 4:Then we answer these questions and give a best offer.
Q: Do you accept OEM produce?
  A: Yes.
Q:  Can you supply sample for test ?
  A: Yes, the sample is free.
Q: When will make a delivery?
  A: Delivery time
          -  Stock order: 1-3 days after receipt of the full payment.
          -  OEM order:  15-25 days after of the deposit. 
Q:what certificates do you obtain?
  A: ISO,kosher, halal, Food production license, Mining license, etc.
Q:Do you have diatomite mine?
  A: Yes, We have more than 100 miliion tons diatomite reserves which account for more than 75% of the whole Chinese  proven  reserves. And we are the biigest diatomite and diatomite products manufacturer in Asia.
---
---
Description: Diatomite is formed by remains of unicellular water plant-diatom which is a non-renewable resources. The
chemical composition of diatomite is SiO2, and the SiO2 content determine diatomite's quality. ,the more the better.
Diatomite has some unique properties, such as porosity, lower density, and large specific surface area, relative
incompressibility and chemical stability. It has poor conductivity for acoustics ,thermal, electrical, non-toxic and tasteless.
The diatomite production can be extensively applied in industrial production with these properties.
Write your message here and send it to us